The fantastic Fegen area is the meeting point of the counties of Halland, Småland and Västergötland. A very popular outdoor destination with a rich bird life and varied landscapes.
Fegen Inspiration Area
The Fegen Inspiration Area - or FIA - is a collaboration between Gislaved, Svenljunga and Falkenberg local authorities. The collaboration began as a joint Interreg project. The Fegen area was identified as an attractive area with potential for development in the hospitality industry. FIA is working to develop the area into a long-term sustainable destination. The collaboration seeks to inform visitors about the area and develop hiking trails, canoeing trails and entrepreneurship in the area.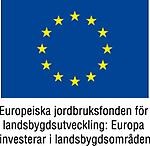 Tourism website project: Fegen Inspiration Area
In 2018 FIA applied for funding from the European Agricultural Fund for Rural Development. The Fegen Inspiration Area tourism website project is an investment in the further development and modernising of the existing website. The target group is the nature-focused, curious explorer. The aim is to increase the number of camping vouchers sold through the tourism website, highlight tourism products offered / promoted via the tourism website and increase the number of visitors to the tourism website.