The river Lillån runs from the northern part of Lake Kalvsjön.. Karsbo campsite is located on the east side, approximately 5.5 kilometres up the river.
---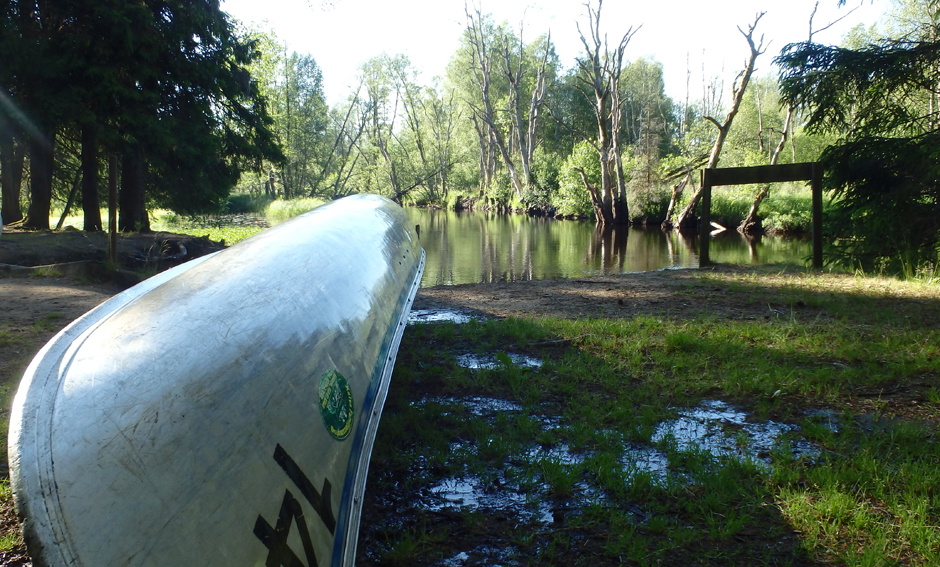 At Karsbo campsite you will find an additional barbecue area and a shelter. It is a lush, green camp site surrounded by birches. A perfect excursion spot to visit from Kalvsjön. The campsite has plenty of space to pitch tents.
General information
Service and equipment at campsites
All camp sites feature basic facilities, which include a barbecue area, waste disposal bins, firewood and composting toilets. Firewood is regularly replenished at all campsites during from May to October.
Good to know
Our campsites are only accessible on foot or via the waterway, some of them you can reach by bike so you leave the car at home. Several of the campsites are equipped with recycling bins for glass and cans as a first step towards more sustainable waste management. Remember to pick up your litter and note that cutting down trees and branches is not allowed. If lighting a fire between May 1 and September 30, the available fireplaces must be used as there is a ban on fires elsewhere. The fire ban applies to the entire nature reserve and the area around Kalvsjön, Lillån, Ätran and Stångån. To stay overnight within the boundaries of the reserve, a campsite must be used. It is not allowed to camp elsewhere.
There is supervisor who manages the area. The supervisor is employed to assist with camping services and keep the area tidy.
Don't forget to buy a camp voucher
You must buy a camp voucher in order to spend the night at one of our campsites. These are available online, via the supplier Ifiske or via our retailers in the area. The proceeds of sales of camp vouchers fund service, maintenance and upgrading of our campsites so that we can continue to offer free firewood, toilet access and barbecue areas.
Donate
If you use the services at campsites during the day and appreciate these services, you may wish to make a donation, information on how to do this is available at the campsite.
Thank you for helping us
Unfortunately, firewood sometimes runs out or our waste disposal bins get full. We would appreciate if you could inform us of this by sending an e-mail so that we can rectify the problem as soon as possible. It is important that you specify which campsite is missing firewood.
Address
Coordinates

: 57.28628, 13.06435