Gällareds "Bed & Kitchen" offers charming and personal accommodation in lovely hotel-standard apartments. Make the most of your stay by going for a dip in the hot tub, making candles or exploring the beautiful nature.
---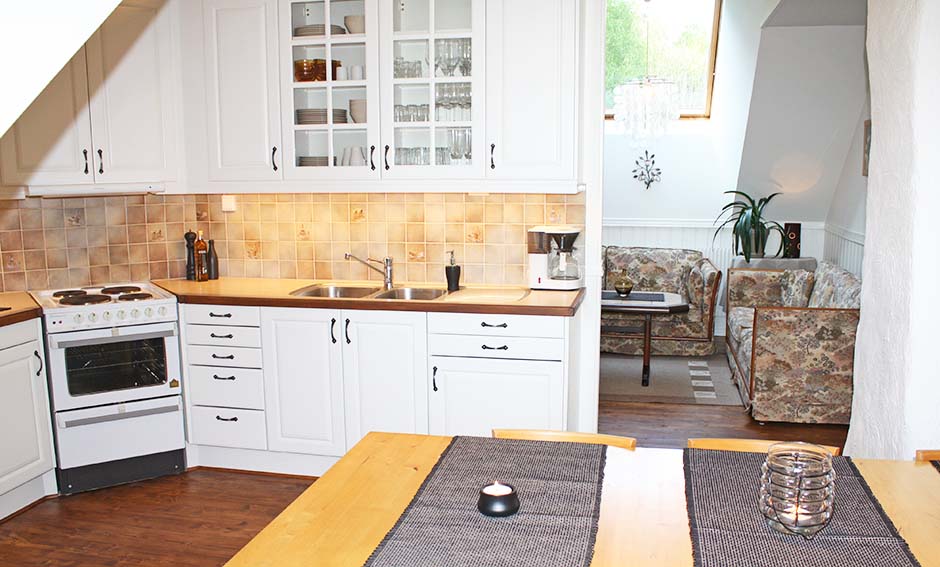 Gällared is located 8 km east of Ullared. The surrounding area is as beautiful as it is relaxing, and you will be staying in lovely apartments with comfortable beds.
There are two apartments in the big, yellow house on the farm. The smaller one accommodates 1-3 people, and the bigger one accommodates 4-5 people. You get your own bathroom with a shower and toilet, as well as TV and free WiFi. There is a kitchenette in the small apartment and a fully fitted kitchen in the big one.
There is outdoor furniture and a barbecue area in the garden. If it's raining outside, there is a lean-to where you can sit outside in shelter. Coal is available for purchase. You can also treat yourself by booking a session in the wood-fired hot tub.
Ljusverkstan
The chandlery workshop Ljusverkstan also operates out of the farm. At Ljusverkstan, you and your friends can learn how to make candles and chandeliers. You can also buy and order candles and chandeliers at the farm shop. The farm shop also sells a variety of glass, ceramic, knitwear and textile hand-made products from local artisans. Visit Ljusverkstan

External link.
Address
Gällared 710, Ullared