For at least 800 years a church has been standing on the hill overlooking Ätran. In 1688 the church was replaced for the first time, it stood until the mid-19th century when it was replaced again by the church which is there today. The current church was completed in 1875-1876 featuring details taken from the earlier churches, with newer elements in the form of an altarpiece with a frame and pulpit made by Sven Nilsson Morin.
---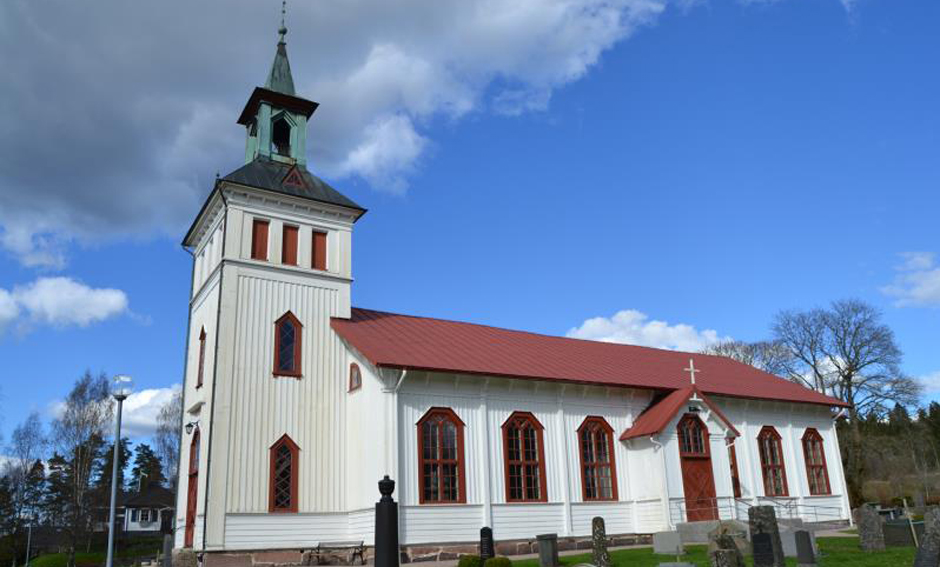 There has stood a church on the hill facing Ätran for at least 800 years; this has been calculated based on the font that was carved in the 13th century. In 1688, a new woodchip and red-coloured church was built, which stood until the mid-19th century. At the time it was noted that the church was dilapidated and that it needed to be repaired, but instead of repairing it the decision was made to build a new church, which was completed in 1875-1876. The font, altar and pulpit all come from the old church.
The altarpiece represents Christ on the cross and is said to be a copy of a Rembrandt. It was donated to the church in the 18th century by Privateer Hedenberg from Erikslund. The frame was carved by Sven Nilsson Morin in 1804, he was originally a farmhand in Småland but was recognised as a talented wood carver who went on to carve many church fixtures. He also made the pulpit.
Address:
Mårdaklev kyrka, Mårdaklev