In an upstairs hall in Klockaregården you will find a set of unique tapestries. In 1848, the renowned painter Sven Erlandsson painted 33 biblical motifs on paper, which he then pasted onto the walls.
---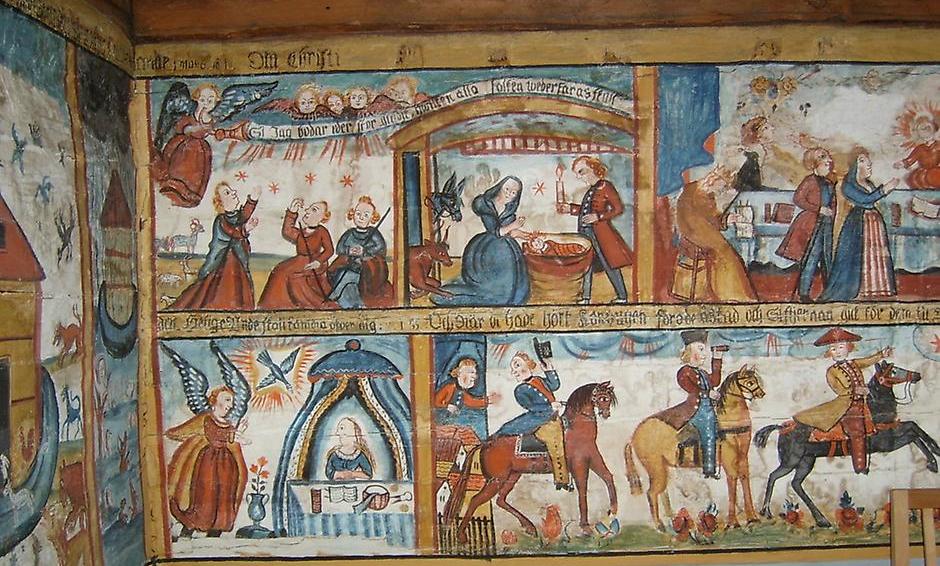 The tapestry paintings in Håcksvik
Adjacent to Håcksvik church, located in the Svenljunga local authority in the southeastern part of Western Sweden, you will find Klockaregården. Upstairs in Klockaregården you will find a set of unique tapestries. Southern Swedish tapestries were normally only hung during the major holidays, however, in Klockaregården they could, and still can, be seen all year round. Tapestry painter Sven Erlandsson covered the walls in paper and painted 33 areas with scenes from the Bible, ranging from Adam and Eve in paradise to the Judgment Day, as well as various stages from Ordo salutis.
Was is unique is that the Southern Swedish tapestry paintings are permanently fixed to the walls. The artist was 80 years old when he created the impressive works. Håcksvik Yttre was an ordinary farmhouse and the dwelling house was 5 years old when Sven Erlandsson adorned the walls with his pictures. The tapestry paintings were for many years covered in wallpaper, which has preserved them well.
Opening hours and summer tours
Klockaregården is usually open between the beginning of July and the beginning of August each summer. For up-to-date opening dates and times, please visit the living history museum's website. At other times, the paintings can be viewed by appointment, please call +46 325-521 95, +46 325-520 30 or +46 325-520 31
Address:
Klabbarp 5, Håcksvik