This hidden gem with its beautiful lake scenery is located further inland in Falkenberg. The Fegen nature reserve is part of a larger conservation area that is split across three counties.
---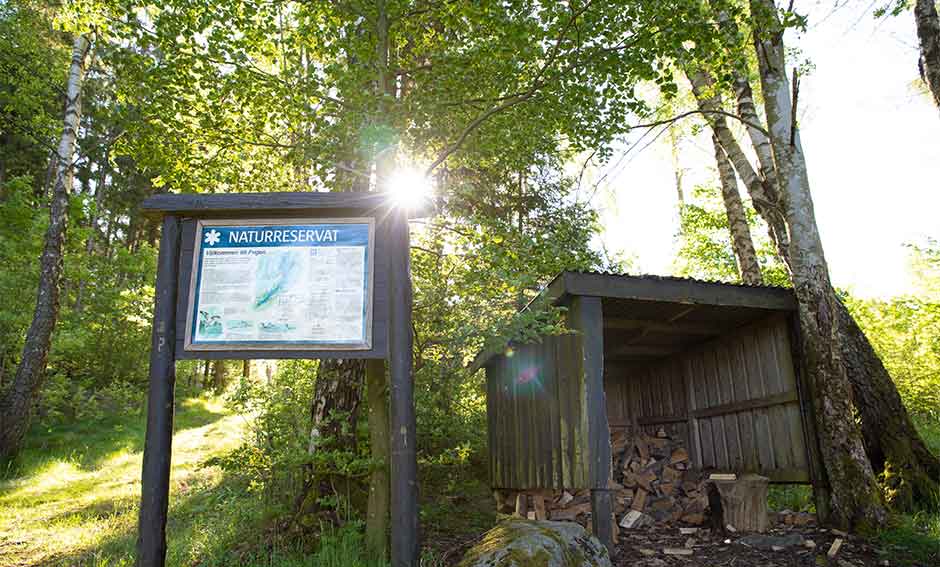 You will find your own favourite spot and activity in Fegen in no time at all, whether you enjoy fishing or going exploring in a canoe, or perhaps just going for a swim and/or enjoying the tranquillity as well as the magnificent nature that can be found here.
Wide and deep
The nature reserve consists of Lake Fegen and its surroundings. The area is located in the border region between the counties of Västra Götaland, Jönköping and Halland and is extends into three municipalities: Falkenberg, Svenljunga and Gislaved. The lake is just under 24 square kilometres in size, making it one of the biggest lakes in southwestern Sweden. It is located in a major rift valley and has a maximum depth of no less than 38 metres.
Interesting wildlife
It has a population of the spring-spawning vendance fish, which is critically endangered. The lake is also home to at least 16 other species of fish such as whitefish, pike-perch, silver bream and mountain sculpin. You may also be lucky enough to spot the osprey and black-throated diver in Fegen. Both species have several breeding couples in the area, which is also home to other bird species such as the redshank, great black-backed gull, goosander and lots of Canada geese.
Things to note about Fegen
Allemansrätten - the Swedish right of public access - does not fully apply in the nature reserve. You are welcome to explore the beautiful landscape and lake, which has many small islands and islets to investigate. However, please note that access is prohibited in certain areas and during certain times. Fegen is a protected area for outdoor recreation and preserving the lake's favourable conditions for fish and birds.
Address
Värnamovägen, Fegen